The Temporary Resident Card (TRC) provides foreigners unlimited number of entering and exiting Vietnam, which allows traveling more conveniently. Furthermore, the card provides a remarkably longer length of stay, compared to Visas, where foreigners must reapply more frequently. This benefit saves a considerable amount of time, effort and money for the card bearer, especially for individuals who work and live in Vietnam or have to travel regularly to Vietnam.
There are many different types of TRCs, suitable for different purposes of temporary stay. For instance, the TRC with symbols TT (TT TRC), a crucial card issued to the spouses or children under 18 years old of the foreigner living in Vietnam, assists them in living with their families.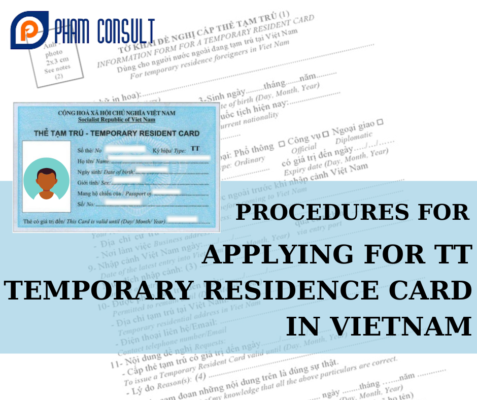 SUJECTS WHO ARE DEPENDENTS OF FOREIGNER ELIGIBLE FOR TT TRC
The Article 36, Law on entry, exit, transit, and residence for foreigners in Vietnam regulates the cases of issuance of TRC include as below:
 "1. Foreigners who are members of diplomatic missions, consular missions, representative offices of international organizations affiliated to United Nation, intergovernmental organizations in Vietnam and spouses, children under 18 years of age and helpers accompanying on missions;
Foreigners making entry on LV1, LV2, LS, DT1, DT2, DT3, NN1, NN2, DH, PV1, LD1, LD2 and TT visas"
For the cases falling into Clause 1 of this Article, a TRC with the symbol NG3 will be issued. The circumstances in Clause 2 will be granted a TRC with the same symbol as the visa.
To clarify, Visa with symmbols TT is issued to foreigners that are spouses or children under 18 years of age of foreigners issued with LV1, LV2, LS, DT1, DT2, DT3, NN1, NN2, DH, PV1, LD1 or LD2 visas or foreigners that are parents, spouses or children of Vietnamese citizens (Clause 18 of Article 8).
Each type of TRC will have different application processes. In this article, Pham Consult will provide relevant information related to the TT TRC.
CONDITIONS FOR GRANTING TEMPORARY RESIDENCE CARD
If the dependent of the foreign apply for the TT TRC, they must satisfy the following 03 conditions:
Firstly, they must be parents, spouse, children under 18 years of age of the foreigner who has been granted a TRC or is subject to a temporary residence card as regulation.
Secondly, passports with a validity of at least 13 months.
Thirdly, having TT visa.
Besides that, dependent of the foreign must not in cases of "suspension from exit" according to Article 28, Law on entry, exit, transit, and residence of foreigners in Vietnam.
THE DURATION OF TT TRC
According to the regulation of Clauses 1 and 3 of Article 38, the duration of a TT TRC shall not exceed 03 years and must be at least 30 days shorter than the remaining duration of the passport. Therefore, foreigners need to pay attention to the expiry date of their passports in order to promptly extend and re-issue them to get a temporary residence time in accordance with their own needs. If the foreigner wants to apply for a longer-term TRC, the procedure for changing passports should be done before applying for a TRC.
APPLICATION PROCESS FOR TT TRC
Step 1: Prepare the document to apply for the TT TRC
According to Article 37 Law on entry, exit, transit, and residence for foreigners in Vietnam, the foreigners need to prepare these documents:
A written request from the agency, organization or individual that carries out the procedures for invitation and guarantee: Form NA6 to agency, organization; form NA7 to individual;
Declaration/application for temporary residence card for foreigners: Form NA8;
Original passport of the foreigner
Documents for proof of identity according to Article 36 of this Law to prove the relation, foreigners must provide extra documents such as: marriage certificate, birth certificate,…
02 (2cm x 3cm) photos (01 photo glued to the declaration form, 01 separate photo);
Copies of TRC and passport of the guardian;
Declaration of temporary residence by foreigners: form NA17.
*Note: In the case where agencies and organizations apply for TRC for foreigners, they need to submit documents to prove their legal status at the Immigration Department and the Ministry of Public Security:
A notarized copy of the Business Registration Certificate, Investment License, clearly stating the capital contribution of the foreign investor;
Registration form of seal sample and signature at Administration of Immigration or Immigration Management Department: Form NA16
Letter of introduction for Vietnamese employees applying for Temporary Residence Cards at the Immigration Department (original) + ID of referring staff;
 (*Form NA6, NA7, NA8, NA16, NA17 issued together with Circular No. 04/2015/TT-BCA, Circular on regulations on specimen papers concerning foreigners entering, leaving and residing in Vietnam)
Step 2: Submit a TRC application
Method of submit application: submit directly at one of the three working offices of the Immigration Department – the Ministry of Public Security:
44-46 Tran Phu, Ba Dinh, Hanoi.
254 Nguyen Trai, District 1, Ho Chi Minh City.
7 Tran Quy Cap, Da Nang City
Or the Immigration Department of the police of the province or central city
After submitting the application, the officer receiving the application checks for the legal and the documents in the application
If the application is complete and valid, it will be accepted, the receipt will be printed and provided, and the finalization day will be informed.
If the application is not valid, the officer will guide the applicant to submit additional documents to complete the application
Application time: from Monday to Saturday morning (excluding New Year, holidays, and Sunday.)
Term to issue TRC: within 05 working days after receiving enough applications, the Immigration Department considers issuing TRC.
Step 3: Get result
The person who would like to receive the result must provide the receipt, the identity card or passport to the officer to compare and check the result. If the TRC is granted, the person is requested to pay the fee and sign before receiving the card (even if it is not issued TRC)
The prescribed fee level is:
Temporary residence card is valid for 1-2 years: $ 145
Temporary residence card is valid for 2-5 years: $ 155
Temporary residence card is valid for 5-10 years: $ 165
Time to return results: From Monday to Friday (excluding New Year's Day, public holiday, and Saturday, Sunday).
Living with your family and being together with your loved ones is cherishable no matter where you are. This is the reason why the Vietnamese government facilitates dependents of foreigner by providing them with the TT TRC. The above details are the information regarding applying for this type of TRC. However, in reality, applying for a TRC for foreigners is not an easy process due to the language and geographic barrier as well as the complicated administrative procedures. With this understanding in mind, PHAM & ASSOCIATES CONSULTING COMPANY LIMITED with many years of experience, provides consulting services for visas, TRC, work permits and other related services.
PHAM CONSULT is always happy and ready to accompany you in managing documents and procedures regarding the financial reports of your business.
PHAM CONSULT is a unit specializing in providing tax consulting services, financial consulting, accounting services, preparing and paying salaries. Customers can contact us via hotline: (84-28) 3930 2487 or Facebook communication channel: http://bit.ly/phamconsult if you need support.